Association News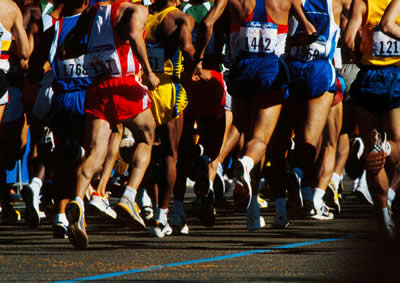 NSGA To Introduce "Personal Best Tour" and Athlete Profiles
We are excited to announce a new NSGA health and wellness media initiative will debut in April, and the theme is already turning heads by boldly offering a new definition of what "personal best" means.
The NSGA Personal Best Tour will visit ten locations this year with a goal of raising awareness about the senior games movement and presenting a tapestry of athlete stories to capture media attention and drive a message to inspire aging Americans to be more active.
"Our definition of personal best goes beyond reaching a peak time or distance in sports," NSGA CEO Marc T. Riker explains. "It's about overcoming obstacles, surviving life's challenges on and off the field, and staying motivated and active throughout your life. When you do this you are achieving a healthy and active lifestyle – and that is your personal best."
NSGA will debut a Personal Best page on its website early next month with six inaugural athletes whose stories illustrate personal best role models. Their profiles will be updated each month through July to provide a 'road to the games' narrative for readers to learn more about them.  As the tour unfolds, NSGA will recognize additional athletes at each event and add their stories to the web page.  "We will give a Personal Best Award to each of these athletes and build an expanding picture that shows how anyone can pursue a lifestyle that becomes their own personal best," Riker notes.
The first event will take place at the opening ceremony of the Texas State Senior Games in San Antonio on April 4. Then, on Sunday, April 7 NSGA will host a senior activity area and demonstrate pickleball for an event called SiClovia, a "family adventure day" that is expected to draw 50,000 residents onto downtown streets of San Antonio. Humana's Well Being Tour interactive health and wellness exhibit will also add to the festive atmosphere. The Humana Well Being Tour will also be featured at the National Senior Games this summer.
Game On!
Cleveland Can Get You Satisfaction
Athletes and visitors coming to Cleveland in July will find many great cultural and entertainment attractions. One of them will offer both.  The Rock and Roll Hall of Fame debuts "Rolling Stones: 50 Years of Satisfaction" on Memorial Day weekend, the first such exhibit dedicated to "The World's Greatest Rock and Roll Band" by the landmark Rock N Roll Hall of Fame. The exclusive show will include personal items and extraordinary collections that have never been seen before by the public.
If the Rolling Stones don't give you satisfaction, Cleveland is planning many activities and special events to offer something for everyone to do every day during the National Senior Games. We won't let the cat out of the bag, but watch for details that promise to make our official ceremonies some of the mostentertaining and exciting ever. The brand new Cleveland Medical Mart & Convention Center will be buzzing with National Senior Games activities, including theme days with special shows, demonstrations and exhibits.  Like classic cars? There's a day for that…and much more.
Also, track and field and racquetball athletes will be happy to know that a new transportation route has been approved to offer direct service between the Village and the Baldwin Wallace competition venue. NSGA thanks RTA, one of Cleveland's local sponsors, for its flexibility to provide the best possible service to our visiting athletes. Watch for more details to come on this new service route during The Games. Please visit www.riderta.com for map and schedule information or call 216-479-6345 to purchase additional passes.
Suffice to say, if you are a qualified athlete, you won't want to miss what Cleveland has in store for you beyond great competition venues. Get registered and stay tuned.
HUMANA Heroes: Athlete of the Month
"Senior Games are Keeping Me Alive"
Sports have always been a saving grace for Hazel Trexler-Campbell of Salisbury, NC.  "If I hadn't played basketball in high school I would have flunked out.  It kept me interested and active and helped me stay involved until I graduated. I still wear my class ring today."
The 90 year old will compete in shot put, discus and long jump in the National Senior Games Presented by Humana, and she will never stop pitching her beloved horseshoes. "I was one of eight children on a small farm with a lot of brothers who played horseshoes," she explains. "So I had to get pretty good at it. I've done it all of my life."  Hazel's husband Vince is 20 years younger and will play shuffleboard in Cleveland.
"When local Senior Games began 30 years ago in Rowan County I got involved and haven't missed one since.  And I've been to every National Senior Games since 1989," she says with pride. She's won her share of medals but that's not her motivation. "I thrive on exercise. To get my brain to function I got to be moving.  I tell people that Senior Games are keeping me alive."
Hazel also likes to tap dance and has performed at the annual Silver Arts programs in her county. "I wanted to dance again this year, but couldn't get any of the other girls to do it with me. I'm not as brave as I used to be, and I don't want to look like I'm showing off."
It's not showing off if you can still do it at 90, Hazel. The people of Cleveland look forward to welcoming you and witnessing several thousand of your fellow "show offs" doing great things this summer.
Senior Health and Wellness
Online Athlete Survey for Sport Motivation Now Available to Member Organizations
At the NSGA Annual Conference last month, Dr. Michael Hess, NSGA board member and national chair of basketball, presented an opportunity for state organizations to offer a user-friendly online survey to their athletes to help gain helpful information about what makes them tick.
Hess, currently a professor at CUNEF University in Madrid, Spain, shared details about the NSGA Sport Participation Motivation Project and some results gained on surveys of athletes who participated in the 2011 National Senior Games. "The purpose is intended to improve understanding of senior athletes and to utilize that information to increase participation and satisfaction with the Senior Games movement," he explained.
The next phase of the project is now underway to conduct surveys with athletes at the state and local level. "The survey involves no cost to our state members and athletes, is easy to use, and provides immediate results," Hess said. "The survey is even flexible enough to allow states to add questions about specific issues a state might have."
To receive information about how your state can participate as well as a recap of major findings from the 2011 survey, contact Hess atmhess@cunef.edu.
NSGA Online Merchandise Store Now Open
Get your Games gear today!
Now you can be the first on your block to wear NSGA and 2013 Senior Games gear with the opening of The NSGA Store at www.NSGA.com. With a couple of clicks, you can view and select from the first line of apparel to be made available featuring the official logo of the 2013 Senior Games.
More items will be added as the games get closer. Of course, a wide range of merchandise will be available for sale at multiple venues during the games, but you'll want to grab something early to let everyone know you're an athlete in the senior games movement. So get in gear now!